Hierapolis - 3D Virtual Tour
Hierapolis virtual tours can be started by clicking the preview window or by downloading the stand-alone versions. Just drag the mouse to the direction you want to look. Use the scroll wheel to zoom at the details. Press F9 to get a list of the 3D sites you downloaded (residing in the same directory). To install the listed sites as a screensaver press F5. Our advise is to install all the sites, including Hierapolis, as a screensaver. When the screensaver starts, a random site is chosen and shown around automatically (this gives the impression of looking at a documentary in HD quality). To see the usage of other keys press F1. Press Ecs to exit.

———
Hierapolis is about 20 km north of Denizli. It is called a Holy City in Archeological literature, due to presence of many temples and religious buildings. It is known that the king of Pergamon, Eumenes II, founded the city in 190 BC. The city was named Hierapolis after Hiera, the wife of Telephos, the founder of Pergamon.
Hierapolis was completely destroyed by the earthquake in 60 A.D. during the time of Roman Emperor Nero. During the reconstruction after the earthquake, the city lost its Hellenistic Style and became a typical Roman City. Right after the Roman period started, Hierapolis became an important center because of its commercial and religious position. In 80 A.D. St. Philip came to Hierapolis and was murdered by the Jewish inhabitants. Hierapolis was conquered by the Turks at the end of the 12th century A.D.
Source: Directorate of Culture and Tourism of Denizli - www.pamukkale.gov.tr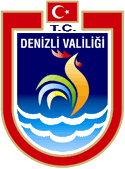 This project was done in collaboration with The Governorship of Denizli.